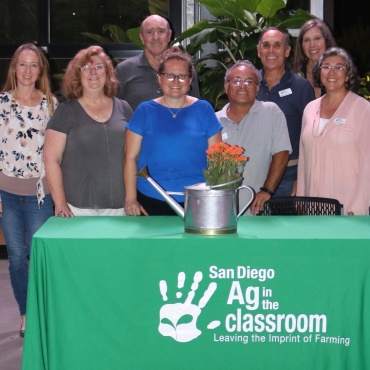 After two years of unpredictability and isolation, schools and nonprofits have returned to in-person events, allowing people to reconnect and establish a "new normal", post-pandemic. For SDAITC, we were excited to organize our signature Teacher Resource Fair once again, a year late but better than ever. At the same time, we have responded to society's greater reliance on online resources by building up our own online presence. 
Our most exciting accomplishment this year was the return of the 8th Teacher Resource Fair, in partnership with the San Diego Botanic Garden. The purpose of the event is to build awareness among local educators about the diversity and importance of San Diego County Agriculture, and  resources to support agricultural and garden-based education.  We arranged 36 exhibitors and welcomed 138 attendees, our biggest event yet. We secured funding to provide appetizers and wines featuring locally grown produce, and OXO Compost buckets as a giveaway to all attendees. 
Knowing that there is so much need for support for school gardens, we doubled down on our commitment to garner more funds for these programs. This year we awarded $10,000 in Garden Support to local schools. The support program annually accepts applications in the Fall, and grants awards each February. We received nearly $50,000 in funding requests.  Because this was a stretch goal, we explored more options for fundraising, including on-site farm tours, leveraging employee matching programs, and outreach presentations to community groups such as Kiwanis.
Our aim is to build awareness about the importance of local agriculture to the county's economy, and mentoring young people to pursue agricultural and horticultural careers. To accomplish this, we updated our donor materials, with support from TMD Marketing. Secondly, we endeavored to maintain a greater social media presence and update our website regularly. Thirdly, we created 4 new videos to add to our "Discover San Diego Agriculture" series, available on our website. The new videos focused on how local farms mitigate climate change using Carbon Sequestration and waste diversion. The farms in the spotlight included Konyn Dairy, San Pasqual Valley Farms, and Witman Ranch. The final video featured the San Diego Botanic Garden and examined how plants can serve multiple purposes around our homes. These videos will be available online soon, and lesson plans are anticipated to be added in early 2023.
San Diego Ag in the Classroom was recently featured in the San Diego Business Journal, focusing on the need for more ag education & support for local garden programs. It is clear that such programs are valued and exciting to individuals and families who directly engage with them, but there is a gap in funding and prioritization from school districts and administration that must be overcome. In the coming years we hope to raise more awareness and put the pieces together to ensure the healthy appreciation and sustainability of local agriculture through school-based programs.